Kingston International Academy has one of the best infrastructures in Tamil Nadu. With its smart classrooms, huge auditorium, facilities for sports and co-curricular activities, our school ensures to provide nothing but the best for your child.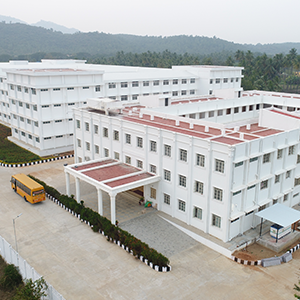 Kingston International Academy has well-ventilated, smartly constructed modern classrooms that meet the demands of the changing education system. Each classroom is equipped with computer and Smart Classroom facilities to support teaching.
Smart Classes enhance the understanding and grasping power of a child and its visual technique suits young minds the best. Interactive models of these classes are also available that provide the students with vast information, clearing their concepts. The spirit of question-answer is strengthened, where asking questions is promoted and answers are rightly provided.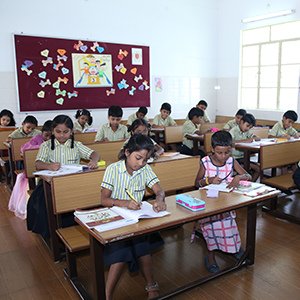 A centrally air-conditioned circular building over three floors houses the junior, middle, and senior school libraries. The library is located centrally in the school to facilitate ease of access.
The goal of the school library is to ensure that all members of the school get equitable access to books and of course, the books are a great inspiration to the students as the library has a great collection of fiction, non – fiction, and reference books.
The latest collection of subject reference books supplementing the textbooks is available to the students. Students find information from these collections to do their research and project work. Physical Education forms an integral part of the school curriculum. It attributes to the growth of the child both physically and mentally. It also develops a respect for fair play, sportsmanship, and team spirit in them. Training in indoor and outdoor sports is made available within the school campus by highly qualified professionals. The School has always excelled at the Inter-School Athletic Meet placing itself within the first five. Infrastructure is available to practice Football, Volleyball, Basketball, Cricket, Hard Court Tennis, Throwball, Kho-Kho, Shuttle Badminton, and Table Tennis. Skating, Cross Country, Field Events, Carom, Chess, Hockey, Throw Ball, Athletics, Table Tennis, and Badminton and Track Events are practiced by students which helps them in keeping physically fit. Chess is also taught and students take part in competition enabling them to be mentally fit.
The school offers a wide range of opportunities for Co-curricular activities. The students are trained for athletics, gymnastics, and Mass P.T. Trained and professional personnel impart coaching in swimming, rifle shooting, and the other field games.